With redirects, you can add internal or external links to the widget, that upon clicking go to a specified URL. In this article, we'll describe how to add a redirect.
Creating a redirect
To add a redirect:
Go to your application, the one you want to create a redirect for, and enable the authoring tool in your browser.
Choose a site you want to create a redirect for.
Now you can start creating the redirect. Click + Create to add the topic.

Choose a topic type - Redirect and fill-in the required fields.


Fields explanation:

* Title - the title of your redirect. It will be also visible to the end-user in the widget.
* Owner - you can select the owner of the topic if you work with a team. By default, it will show your account.
* Visibility in the widget - choose hidden if you don't want to show the article immediately to your users. Remember, that in order to show any topic created, the Inline Manual player needs to be implemented.
* Privacy - it's within Inline Manual portal, privacy settings won't affect your users.
* Language - select a language of this topic.
* Description - enter a description, what is this topic about.
Click Create topic to confirm adding a redirect.
The topic is now added to your site! You can now create the redirect. Enter the URL you want your users to land on. If you want the link to open in a new window, put the check in the box.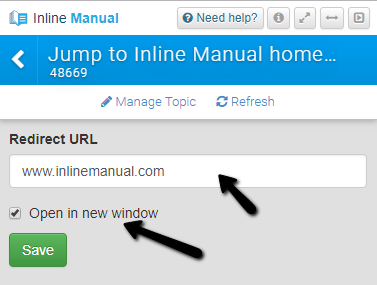 Confirm adding the redirect with the Save button.