This feature is available in Standard PRO and Enterprise plans.
Aside from the option to translate the content within the Authoring tool, you can export it, translate it within another application, and then import the translated content back. The exported files are in CSV or XLSX formats. In those files, your content editors can edit the HTML source and any tokens you're using. Then you can import the translation file back. This workflow will make it easier to write and manage translations
To export and import translation:
Go to Topics and click the topic ID of the topic you want to translate.

Go to the Revisions tab.

Click the Translations button.

Export the translation file. You can select to export the file in either CSV or XLSX formats.
You can now edit the file using your own supported application. Please don't modify the topic in the meantime to avoid conflicts during import. Please note that the order of languages is important. Here's an example of an exported topic with one step in two languages opened in Microsoft Excel:

When ready, import the translation file back. Once done, you will see the translation via the Authoring tool or Live from your site when it is published.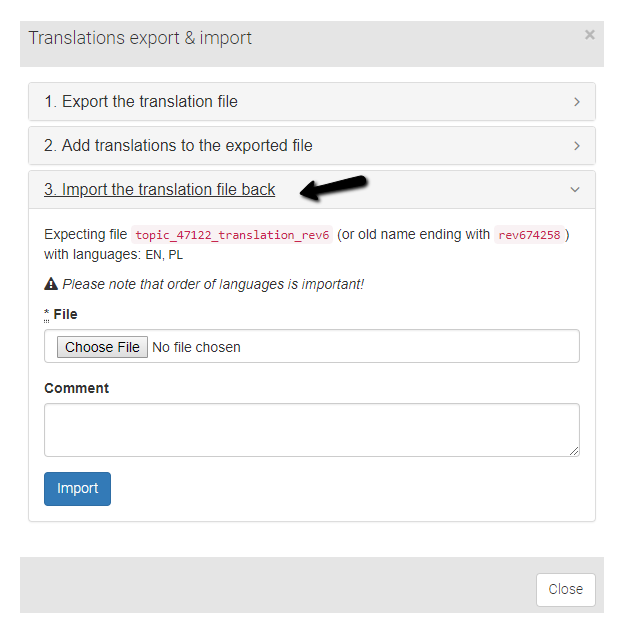 Export/Import JSON Revisions
Inline Manual version control system is the core feature of Inline Manual content handling. The version control system records changes over time so that you can recall specific versions later. Translators who prefer using the JSON format can use Export/Import revision for translation. The JSON format contains all the step data. This includes not only the content they are translating but also other properties such as element assignment and so forth.
You can download the revision by clicking the download button in the Revisions tab: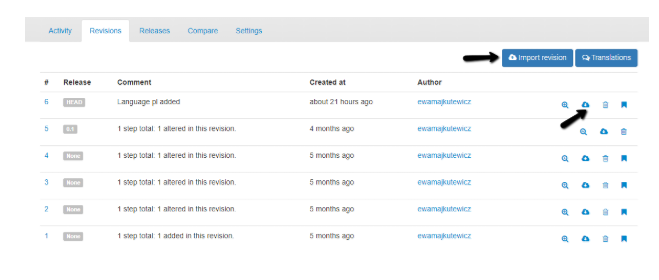 Each revision can be exported, sent to translators, and then imported back.