In Inline Manual, you can add various types of content to your steps such as images, videos, GIFs, links or tables. With the WYSIWYG editor, you can customize your guides look to suits your needs. If you're wondering why you should add media to your topics and when to do this, take a look at this article.
Adding a table
To add a table:
In the Authoring Tool, while you're adding a step, scroll down to the Step Options Panel. In the WYSIWYG editor, click the table button.

Provide table properties: number of rows, columns. Set up table width, border size, cell spacing and padding.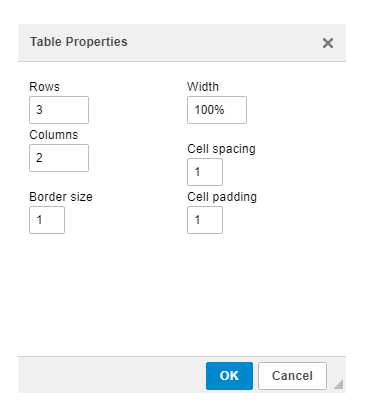 Confirm with the OK button.
Done!
When to use tables?
Using tables is especially useful when you want to add custom buttons that are positioned vertically, in one line. Then, for example, you can create a table with 2 columns and 1 row, without border and in each of the cells you will add a button. This will allow you to have buttons next to each other in one line.
Read more about custom buttons here.